How to choose keywords for SEO
1 July 2016 George Svash Leave a comment KEYWORD RESEARCH
Keywords are an organic part of any SEO strategy. And not only an SEO one. They are used where a content is published. For example, Facebook post, or paid search ads. Properly chosen keywords can perfectly help your business to grow. But to pick them right one must do huge work. It is necessary to determine which keywords of enormous variety are exactly those helpers in business promotion.


Why do keywords matter
Keywords can lead you to success in the content strategy. For the start, let's make some terminology clear: a keyword is a word or few words, a query users enter in a search box. Herewith, the user expects to see the answer relevant to his query or receive the information he's interested in.
SEO implies a number of actions aimed to help a website on its way up to the TOP of SERP according to certain keywords. Keywords themselves can be present in different roles. Such as:
Optimization tool. They are used to make a website's ranking increase.
Quality pointer. They show how good SEO specialist's work has been done. To check it compare a website's positions according to the keywords that the specialist used.
For now, it is more interesting for us to know the keywords potential as a tool for optimization.
Despite the number of upgrades, the fundamentals of websites ranking for keywords are the same. The main principle of it looks like this: a search engine indexes pages and saves their content in its database. After a user enters a query, the search engine starts to form the answer to it. Next, according to plenty of algorithms, the search engine selects millions of pages that are relevant to what the user is looking for. After that, it ranges these pages from the most appropriate to the least ones. The user's query, in this case, makes the search engine work – look for the answer. It does its best to select all pages which are relevant to the expected result. But to make it easier for people, the results are ranked and the first one will be the most relevant.
How to do keyword research
The selection of proper keywords takes a lot of time. First of all, you should understand who are your target consumers. Any businessman must know everything about his clients. Who are they? Gender, age, income level. This simple information is very valuable, because you will need it to reach customers' hearts and make them buy your product. Keywords are an impersonation of your future content, chosen ones influence what you will write and what language you will speak to your clients. For example, if you speak to young people you should use post-teen slang. If your clients are specialists in some specific field, f.e. doctors, it is better to learn medical terminology to avoid any misunderstandings.
Now we can make the next step – creating a list.
1Before everything else, you should set the selection of the most relevant keywords as an aim. In future, you will be able to make the list shorter but for now you have to squeeze the maximum because you need some material to work with.
Find out what your potential customers are looking for. For this purpose use the statistics of Google Trends. All the statistics is sorted by topics.

There is an ability to set a location for each topic, subtopic and display the TOP 10 of the most popular queries.

Programs for keyword generation can help you as well. As an example, let's consider free tool from RankActive. It helps to generate keywords. Just enter URL of the website and it will deliver a list of keywords, generated individually for you. Also, it is a great chance to make the existing list bigger by picking additional keywords related to the ones you already have. So your list of keywords will grow up a lot.
Google Search tries to help its users – it gives hints when you enter a query into the search box, shows you those queries which are the most searched for along with the one you've entered. These hints can be used when creating keyword list. Enter the keyword and write down those words which Google will offer.

Surf the websites that look like yours. Check what words your competitors used for keywords meta tag or titles.
2Now, after you've done great work and found tons of keywords, we must sort further actions out. The first step is a keyword analysis and their audit. For now, we have all possible variations which will help us to optimize the site. These results must be analyzed and only the most relevant must be left. The following parameters will help you to do it faster:
Search volume is a significant parameter. It shows how often the keyword has been searched for within a month. Why do you need keywords which no one searches for? As for popular ones, they bring a lot of traffic.
Check level of competition. Good results are hard to get using competitive keywords. If the competition is low, it will be much easier to be in TOP using the keyword, but note: if the keyword is not popular at all, too long, then there will be no result. Try to find a happy medium. It will be a bit more tricky than just sort by Search Volume value, but the mission is possible. You should consider how easy a keyword can be read and Search volume (a keyword's popularity) – if you receive a nice comprehended phrase and it is often searched – it fits perfectly.
Relevance to the content. In this case, only the most appropriate keywords and phrases must be left. They can be checked by Google which is very useful and, what really matters, free. When you enter a keyword, it will show you relevant websites. If the thematics of websites differs from yours then it may be better to strike the word from the list.
Commercial attractiveness should be present if one of the aims is to sell something. If a user decides to buy, he shows his interest by the query. Mostly they use words like these:

Buy
Discount(s)
Deal(s)
Coupon(s)
Free shipping

One more pointer is a product mention. It isn't as efficient as the words from the list above, but still it gives good conversions. Hint-words may look like this:

Branded searches (brand-name goods)
Specific products ("iPhone 5s" etc.)
Product categories ("summer dresses", "insect repellent", "beach accessories" etc.)
Affordable
Best
Cheapest
Comparison
Review
Top
Commercial keywords are necessary for any business as they are used by potential consumers.
3After all is done, the keywords that survived must be separated. The received groups should be small. Each group will be related to one of the pages and should contain 3-5 keywords each. Please note that it is better when keywords are interconnected as they are going to be used in the same content. If you need to use such words as "cat", "mincer" and "battery" , it will be a complicated task to do. Create an adequate content plan.
Besides, there may exist groups with other characteristics: f.e. you've decided to start PPC campaign or promote your site at social networks fast and furious. You will need keywords to do both. It happens very often when different keywords sets are used, but it is better to form the big list and create small groups of keywords after.
Few words about how to use keywords on a page
All the recommendations about where the keywords must be placed are just recommendations. But how good it is to do everything right. What if it works )) Here are the recommendations themselves:
1Fill all the meta tags. Delicate and blow-by-blow. Meta tags should be unique. Title tag length is 30-65 characters. At least guys from Google are persuaded that a perfect title tag looks like that. When Google forms the SERPs it will use title tag content for a link to your page, and the short description under the title will be taken from meta description tag.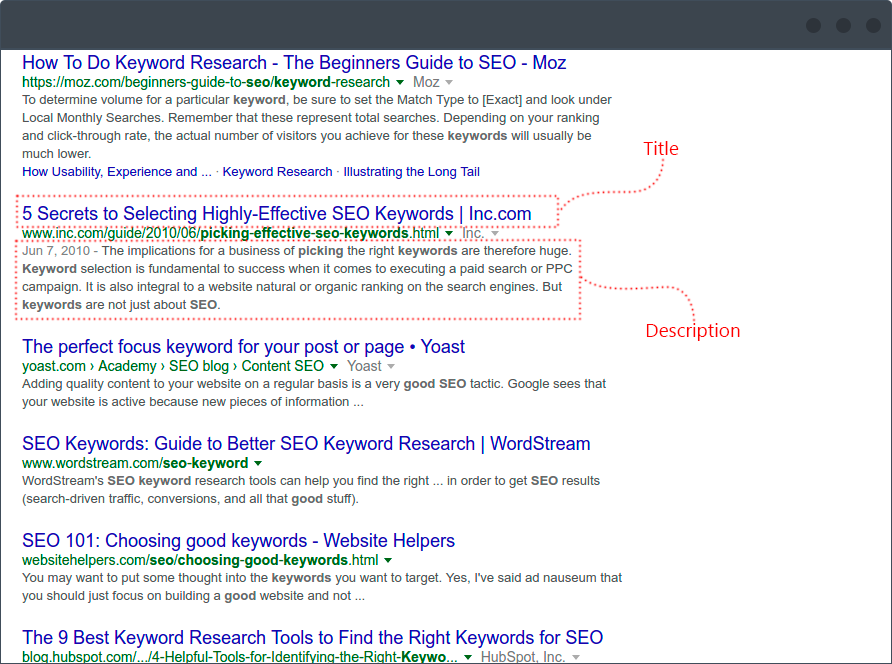 So take care of these tags' content, add keywords to the text, write a selling title.
Add keywords picked for a certain page into its meta keywords tag. Keywords are separated by a comma.
2Work on a page structure. Google likes shipshape pages with good structure. Add keywords to the headers. When a user enters a query he expects to see an answer, so show him that your page has it. Very often a user skims over a website page. Make sure that even skimming shows the main idea of what is written on the page.
What makes a page well-structured:
Perfectly made lists
Noticeable headers
Main theses or keywords are better to make bold or cursive – this will make a text easier to read.
3Don't spam! It is not for nothing there is a limit for keywords for a page. If you add too many of them or repeat the same words it will be hard to read the text. Google has already learned to detect such over-optimized texts. Write for people and be happy!
Common mistakes to avoid when selecting keywords
The selection of keywords is troublesome process. Most of the things must be intuitive because of the big amount of nuances that appear during a selection process. Common mistakes are:
1Using too short keywords. Look at it from the user's side who enters the query. Every experienced user knows that when there is more specific query put into search box the chance that a result will meet the expectations is bigger. If you are not an experienced user then you will have to see it for yourself. By optimizing content for long-tail keywords you are getting more target consumers.
2Using the broad match. If you select keywords by using broad match you may get inaccurate data and will be very disappointed in the result. For example, search volume in the case of a broad match for keyword 'ladies leather handbags' will be 2,400, but at the same time, an exact match will be only 260. To avoid falling to such trap when checking keywords popularity, enter them with quotes (""). The search engine will read it as you want to get information exactly for this query. Without quotes all the related queries will be included. For example, entering 'amazon ladies leather handbags' without quotes you should be ready to get the result from a search engine where Search Volume will be summed for both queries.
3Using plural. It is very simple logic and maths. People search for "computer" more often than for "computers". Thereafter, the first keyword fits better.
4Selection of informative queries or orientation to the keywords that can't bring any conversions. It is very important to learn how to differ which keywords will make money and which won't. Use commercial attractiveness when creating a keyword.
5Ignoring the content. If using automatic methods for choosing keywords, you should always check the result. Systems don't usually see the difference between "grain storage" and "data storage". They see them as a set of characters. Luckily, people are able to see it so the situation is in your hands.
Keywords are fundamental for business promotion. And there is no doubt that they are an important part of the optimizing game. But always remember that the market constantly changes in such a dynamic era and there will be a need to overview keywords list from time to time. In the Internet world everything changes too often and sometimes it is critical to be on time with a reaction on actual novelties.
Embed This Image On Your Site (copy code below):

Tags:
Like this article? There's more where that came from.