How to Do SEO Competitor Analysis? Your Checklist for 2019
31 January 2019 George Svash Leave a comment ALL-HANDS SEO
How well do you know your competitors? These are the companies with ideas and target audiences similar to yours, so all of you fight for the same profit every day. Strictly speaking, you work side by side but not together.
Modern SEO tools allow business owners to look under the hood of the competitors' websites. Why would you need that? First off, you how standard SEO practices are used on the market. You also notice your advantages and disadvantages. And finally, you gain some inspiration for your marketing strategy. The only question is what exactly you should check – and we're here to share the whole story.
Today, RankActive is telling about SEO competitor analysis and invites you to join the game.
1. The List of Competitors
Are you sure you know all of your competitors and consider them in your marketing tactics and strategy? You can make some interesting discoveries with the Top Analyzer developed by RankActive.
You already know the main keywords used on the website, and you can make a research on each of them. Enter a targeted keyword in Top Analyzer, and you will see the top 10 list of websites ranked for your keyword.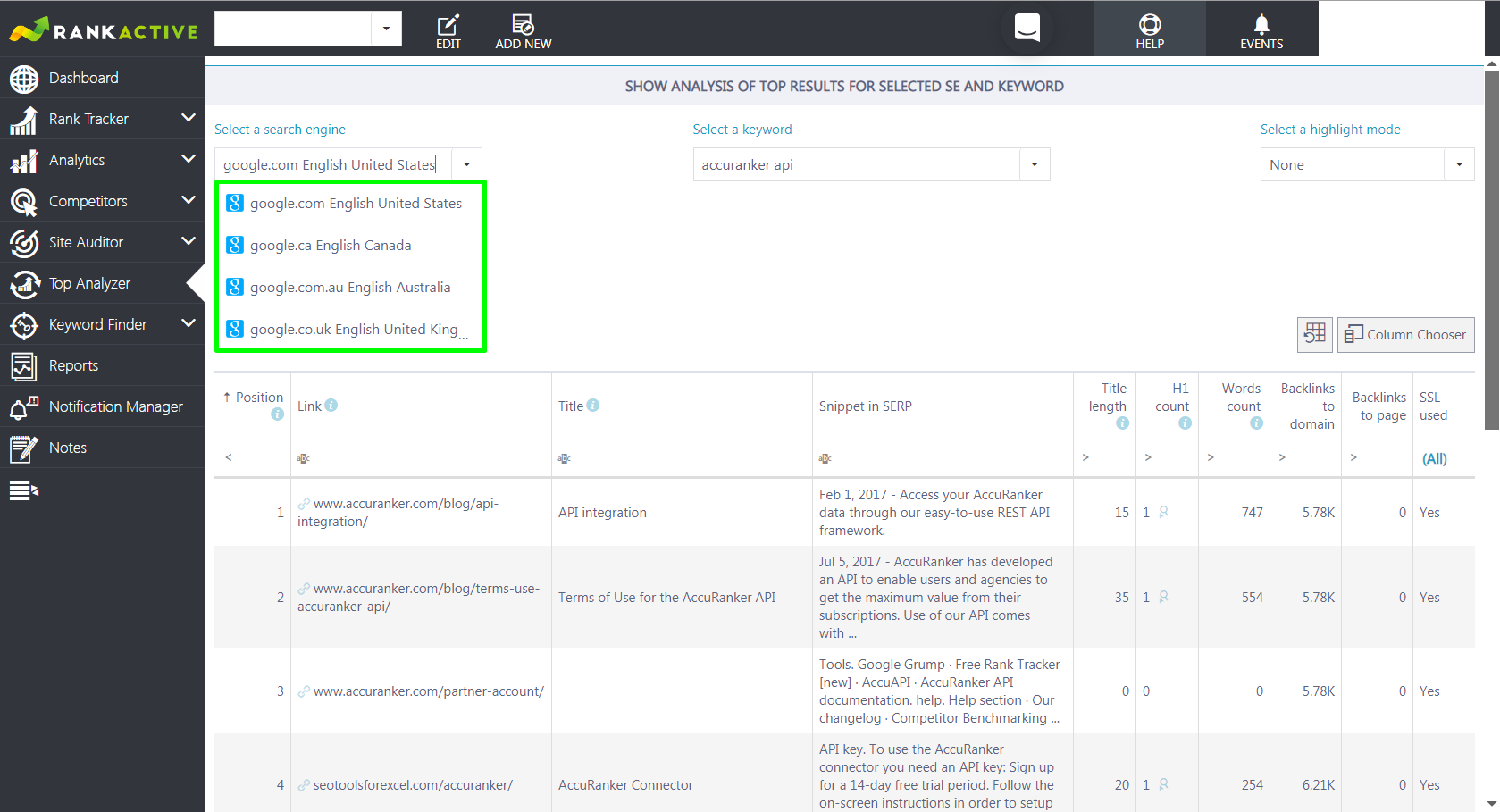 Aside from the URL, you get a number of details: the title of the page, a snippet in SERP, title length, some backlinks data, words count, etc. It might help you identify websites that you haven't considered yet.
2. Keywords
Search engine optimization always starts with good keywords – they allow your platform to be found on a huge web field. After getting the keywords list, you can compare it to yours and figure out what they have in common and how they differ.
Open your RankActive account and go to the Competitors Inspector. If you haven't defined competitors yet, do that in Settings. After that, open the Keywords subsection and find a list with keywords which you can filter depending on the search volume and estimated traffic value for a specific keyword.
3. Rankings
Then, you have to figure out whether keywords on the competitors' pages successful or not. As all websites are hunting for high rankings, it's better to have a detailed overview of keywords positions.
In the Rankings subsection, you'll find both a graph and a table containing information about the average keyword position, keywords in the top1, top 3, and top 10.
4. Visibility
Another valuable insight regarding your competitors is their website's visibility. The two most important metrics here are estimated traffic value and search visibility value. The first one depicts predicted amount of organic traffic from the project's keywords, and the second one reflects the total visibility got from the project's keywords.
You can find both of them updated once a week in the Visibility subsection.
5. Meta Data
Next, you should pay more attention to the websites' content. Now Google is focused on high-quality content, and if you feel that content is one of your weaknesses, it's better to work on improvements.
During your research, you can read titles, meta descriptions, and headlines of different levels (H1, H2, H3). After that, you can move to the readability of the whole text content. Try to figure out if the content and all the headings are user-friendly and look natural on the web page. Google doesn't require content with exactly matching keywords – on the contrary, it's focused on the user's intentions.
6. Media Content
Images and videos on the website can increase rankings and, at the same time, can bury a platform under a pile of search pages. What you should focus on are the amount of visual content and its quality. What strategy did your competitors choose in this regard?
Even a high-quality image on the web page does not guarantee great user experience. For example, a heavy-weighted photo can dramatically decrease the loading time of your website. On the other hand, light-weighted but outdated images won't make users happier. Reviewing several websites of your competitors will help you understand your advantages and find improvement options.
7. Internal Links
When checking internal links on other websites, your main goal is to analyze the website architecture and user flow. Start with the homepage and go step-by-step from one page to another. How many pages have you looked through? Was your path smooth and understandable? Are there enough call-to-action buttons?
Imagine that you're a user looking for answers. You know how users would think because they are your target audience too. So, as a customer, you can easily achieve all of your goals on the website (pass the registration process, find a product, make a purchase, etc.).
8. Backlinks
Outbound links show that you have reliable content on your website, which, in its turn, increases the overall level of trust to your platform. What do you know about the backlinking strategy of your competitors? RankActive will help you get precise numbers.
In the Backlinks subsection, you'll be able to monitor the total number of backlinks, referring domains, domain ratings, etc.
9. Design
You can win over your customers' attention with beautiful design. This is especially true for local businesses – their websites often look outdated. If, for example, your closest competitor has good rankings but poorly-looking design, this is a chance for your company to stand out.
The winning combination is a well-thought architecture (i.e. internal linking) plus perfectly looking interface. Check how this combination is used by your competitors.
10. Google My Business
Another way to promote a company is to create a Google My Business account for it. Users see Google information right from the search page, so it's a crime to neglect this opportunity.
The most important points, in this case, are regular account updates, available visuals, the engagement level, and the number of reviews. If your competitors lag behind in one of these points, this is your way to shine out.
11. Traffic
Now let's find out how people interact with your competitor's platforms. In the Traffic subsection, you'll find all the information you need. RankActive also includes your website's metrics for you to compare.
Visual comparison, in this case, is very helpful, so we've decided to put the data about website visits on the graph.
Under the graph, you'll find a table that can be expended with additional information. By default, it includes the number of total visits, plus organic and paid visits. From the Column Chooser, you can add social and referral visits, time on the website, page views, and the bounce rate.
The Competition That Pushes You Forward
Competition is the greatest source of growth for any company. Start researching the competitors' websites on regular basis, and soon you will notice a huge effect on your own strategy. SEO competitor analysis includes all the basic steps of website optimization. Your competitors also built their content on certain keywords, used links to improve rankings, and created a website design. Now you can check whether they succeeded or not.
But there are some metrics that you can't check without a professional SEO tool. Keyword usage, visibility, traffic level – you've seen how easy you get all this data with RankActive. The only thing you have to do at the beginning is to define your competitors in the settings, and we'll take care of everything else.
Tags: competitors analysis, competitors inspector, Competitors Research
Like this article? There's more where that came from.