Optimizing for Bing: 5 Ways It's Different from Google SEO
24 January 2019 George Svash Leave a comment ALL-HANDS SEO
Have a question? Ask Google! We all do that just like our friends, colleagues, and clients. When optimizing a website, both entrepreneurs and SEO specialists follow the latest Google rules. But this search engine is not the only place where people tend to ask questions and get answers. Today, we're shifting Google to compare it with Bing, another popular platform.
Every search engine has its own rules to follow, and you should know Bing's rules before taking vigorous action. Why you should optimize for Bing? How does it differ from Google? How can you track Bing rankings? You'll find all the answers in this article.
Google vs. Bing: Who Is Who
So, in one corner we have Google, a search engine known by people of any age and used all over the world. In the opposite corner, there is Bing, the closest Google's competitor.
Google
The world has known Google for over 20 years now, since 1998, when it was first released by Larry Page and Sergey Brin. Starting in 2002, we've had more and more Google products such as Google News (2002), Gmail (2004), Google Maps (2005), and many others. But that's not all. The platform is being constantly updated to provide Internet users with the smartest search results that comprehend even the people's intentions.
Bing
This is a platform launched by Microsoft which previously released "younger" search engines – MSN Search and Live Search. They were the basis of Bing as we know it now with its release in 2009. Interestingly, this search engine has a long history of deals with Yahoo. Particularly, now Yahoo's search is powered by Microsoft, which means Bing is in the core of the Yahoo search engine. This collaboration makes lots of marketers pay more attention to non-Google SEO optimization.
To figure out what's happening on the market now, we've turned to the stats provided by Statcounter. According to its data, Google has almost a monopoly on the SE global market with a 91.43% market share. Bing and Yahoo together have 4.91%, and they are the closest competitors to the Google giant.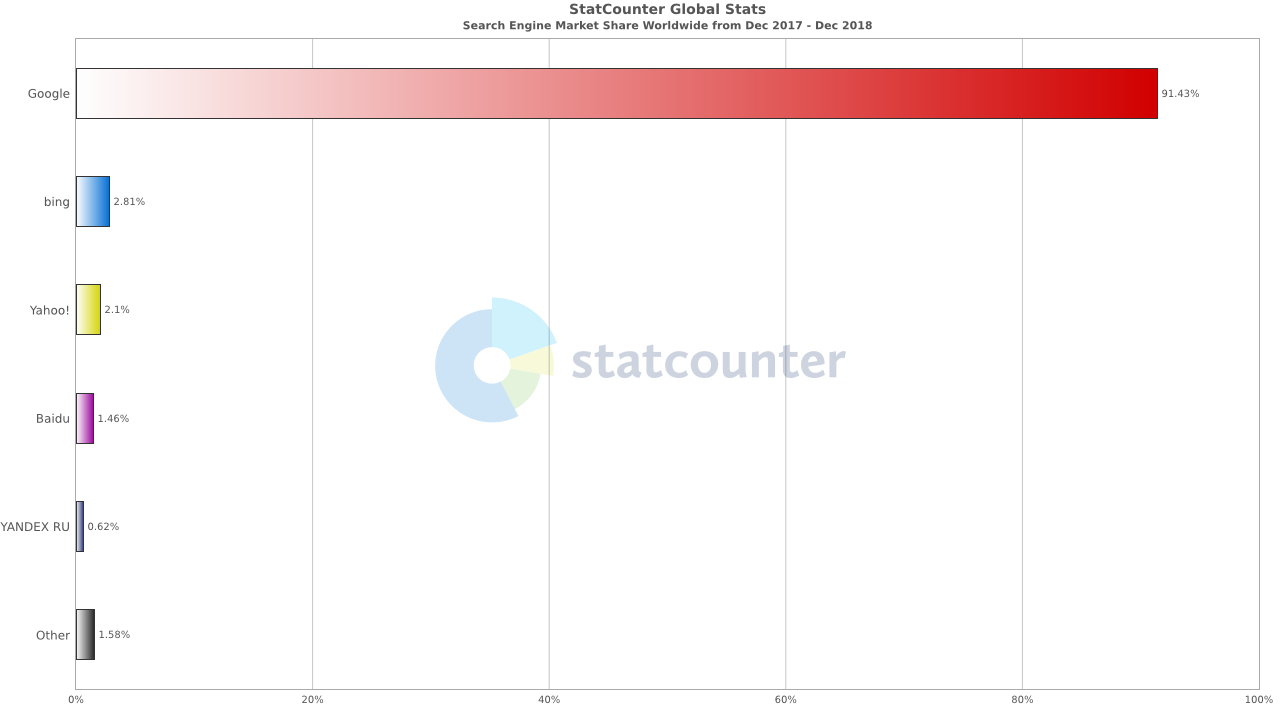 Well, it's no wonder why there's so much fuss around Google SEO, but you still have several reasons to consider the Bing search engine as another area of your marketing activities. Let's take a closer look.
Why Optimizing for Bing Is Important?
How many backup plans do you have in your marketing strategy? It looks like Bing can be one of them due to several reasons.
1. Optimizing for Bing, you also optimize for Yahoo. As we just mentioned, Bing and Yahoo became the closest partners in the web search, so you're catching two rabbits optimizing for Bing.
2. You deal with low competition and acquire more potential customers. While the whole world around you is talking about Google trends, you can go to a more quiet place and find your customers in Bing. Keep in mind this SE is more popular in certain regions than on the global level. For instance, Yahoo and Bing's market share in North America was 9.92% as of December 2018 according to Statcounter – it is twice bigger than the global number. And while a fight for top Google rankings is harsh, Bing's competition is easier to take part in.
3. Bing's updates are not as harmful as Google's algorithms. Google is famous for its regular updates which can be risky to plenty of entrepreneurs and SEO experts. For example, a website can suddenly lose its rankings because Google considers the website's content not relevant. It became possible in August 2018 after another update announcement. When it happens, it's always good to know there's an airbag to rely on.
6 Main Distinctions Between Google and Bing SEO
There are enough differences and similarities between the two platforms. As we all got used to Google SEO, it's good to know how Bing SEO is different.
1. Keywords
Keywords play a huge part in the SEO strategy of any website: they're used in headlines, meta descriptions, articles, etc. When it comes to our comparison, keyword optimization appears to be one of the biggest differences between Bing and Google.
Google works hard on improving the user's search experience, that is why the RankBrain system is one of the biggest SEO trends for 2019. This system is based on machine learning to figure out intentions that lay behind a certain search query. Basically, when the search engine can read the user's mind, keywords in the text don't have to be an exact match to the query.
Bing, on the other hand, requires a completely different approach. Its Webmaster Guidelines suggest us to use matching keywords whenever possible. The higher Bing ranking you want to have, the more keywords you have to use in descriptions and headlines.
Another issue we have to mention is meta keywords. If you got used to working with Google, meta keywords are something from the distant past. The thing is Google SE does not consider meta keywords at all, so there's no need to include them in the SEO strategy.
Bing is a whole different animal because meta keywords are very important for high rankings. Surely, you should pay attention to every meta keyword and not overload a web page with them, but they're crucial for the success of your work.
Google: Keywords are necessary for your page to be found, but Google appreciates high-quality content more than keyword density. Meta keywords are an issue of the past, and they're not going to come back.
Bing: The best SEO practice is to use exact keywords at every opportunity. Without proper meta keywords, you won't get to the top of the search.
2. The Content's Age
Google respects regular activities on the websites – it shows the newest content higher when we use a web search. Bing prefers to "test" content for some time and waits while it gains more traffic. Such trusted pages will always appear on the top rather than newer domains and their updates. It's not surprising that Bing gives much credit to .gov and .edu domains over popular websites concerning the same subject.
All of it means that Bing treats factually popular resources better than socially popular. That said, you should focus on creating such content which will be helpful for at least some time. Bing will consider your content as trusted and will put it high.
Google: You should create new content regularly and update a website.
Bing: Focus on the long-lasting content that covers general subjects, tutorials, and how-tos. The more traffic web pages have, the more likely they will get high rankings.
3. Backlinks
Both Bing and Google appreciate a good portion of backlinks on the web page – they contribute to the higher rankings a lot. The quality and quantity of backlinks are equally important for both search engines as well as the authority level of different web sources.
Bing and Google consider .edu and gov. domains as a perfect place for the outbound link. If your content doesn't fit these domains, try to find well-established web platforms from your industry – reputation means everything in this situation.
The big difference between the two is the keyword usage in backlinks. If you optimize for Bing, make sure that keywords would appear in the anchor text of the link – it is crucial for higher rankings. On the other hand, Google's algorithms are more sophisticated and too many keywords in backlinks can, on the contrary, lead to penalties.
To balance this issue and to stay visible for both Bing and Google, leave keyword-focused backlinks only for the websites with the highest authority and most reliable reputation. As for the generic links, you should place them on the platforms with lower domain authority.
Google: The quality and quantity of backlinks do matter along with the domain's reputation; you should not add too many keywords to the anchor text.
Bing: The search engine will understand you better if you leave keyword-focused backlinks on the authoritative websites.
4. Social Signals
In 2014, Matt Cutts, the key Google's expert in webspam, stated that social signals have no influence on Google rankings. Several years have passed, and nothing changed since then.
Bing is playing a completely different game. As social media are a part of our everyday routine, its signals should have an impact on the rankings, according to Bing. It is not the main part of the SEO strategy, but it's definitely worth mentioning.
With that said, your followers on Facebook or Twitter can be great contributors to your success in Bing. If people share your posts, Bingbot sees it as a positive signal, which can eventually affect your organic rankings.
Google: Social media platforms are useless for your SEO strategy.
Bing: Social media accounts are important for any type of business and can influence its ranking in the long-term perspective.
5. Technical Factors
The first 5 points are the main differences between Google and Bing, but this is not the end of the list. There are some more details which will eventually impact your rankings in Bing. Let's review them one by one.
Bing caches up to 100 kb of the page's data. It was the same for Google several years ago, but its crawlers evolved a lot since then. So, no matter what website you work with in Bing, pay more attention to the content placed in the first 100 kb of the page.
Bing favors homepages over internal pages. Google is not so adamant and shows all website pages in SERPs. It can be explained with the fact that Bing "sees" websites as traditional platforms where a homepage contains all the important information.
Consequently, choosing 301 (permanent) redirects over 302 (temporary) redirects is always a good idea. Google identifies 301 redirects, while 302 won't have an effect on indexing. Bing opts for another tactic: it interprets 302 redirects as 301. Though the search engines behave differently in this regard, you should always choose 301 redirects.
How Would You Track Bing SEO?
There are lots of tools on the market that allow monitoring Google rankings. But what about Bing? Not every SEO solution gives you an opportunity to keep an eye on both Bing and Google. Luckily, we've got one for you – its name is RankActive.
Besides Google and Bing, you can also monitor Google Map Pack, Google Maps, Google Mobile, Yahoo, and Yandex.
Using this tool, you get all the necessary data about your web platform:
Rank Tracker: keyword rankings, traffic, search volume, and more.
The analysis of your competitors.
Monitoring of on-page optimization.
Keyword Finder, etc.
Strictly speaking, RankActive gives you an opportunity to get detailed reports both on Google and Bing search engines. Plus, you can use our white label feature and customize all of your reports if necessary.
Be Prepared for Bing SEO
Depending on the target audience, Bing can be an addition to your SEO activities. Google is an indisputable leader on the market, but a certain part of your target audience may use another search engine at the moment. Plus, Bing SEO makes even more sense after a collaboration between Bing and Yahoo.
We highlighted the main differences between the two search engines that will help improve Bing rankings: keywords usage, social signals, text-based and multimedia content, backlinks, and some additional technical factors. All of it will have a positive effect on your Bing SEO strategy, and you can monitor it with the RankActive solution. Want to check how it works? Use our 14-days trial right away.
Tags:
Like this article? There's more where that came from.